Agency Life
December 12, 2022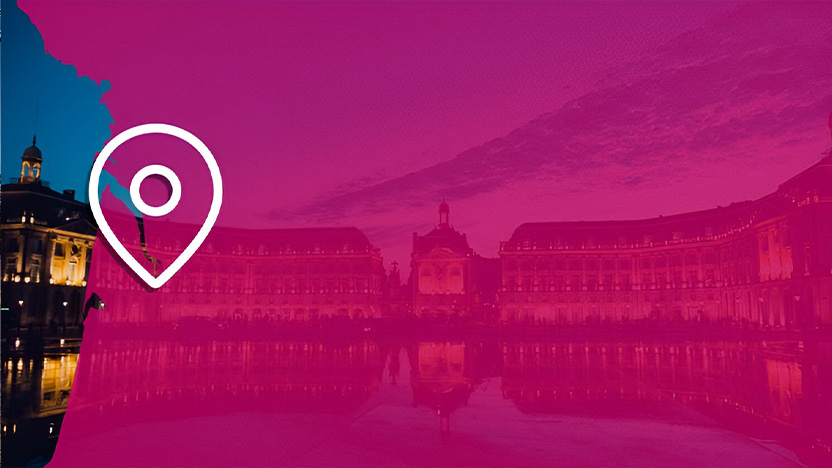 In order to respond to its growth, the Bordeaux team is moving to larger premises.
Frédéric, Agency Manager, Claire, Recruitment Officer and Cintia, one of the agency's first Technical Assistance employees, are very involved in the development of the Bordeaux agency.
They talk about the development of the agency, which is moving to new premises.

It's been 2 years since the Bordeaux agency was created, what about today?
Frédéric: "Already 2 years, it has gone by at an incredible speed! So many things have happened since the beginning: revelations, certainties, doubts, successes, mistakes, adjustments, meetings...
The guidance and support of the General Management and my peers have been beneficial. Creating an agency in the South-West of France in the middle of a pandemic was not an easy task... We were able to count on the support of the entire Group.
The human adventure and authenticity. At Sully, the authenticity of our relationships is real, both internally and with our partners, our clients and our candidates. Each story is unique. This maintains the desire and the motivation.
An agency... and now a Service Center. When I embarked on this adventure, my mission was to create an Agency to offer our clients intellectual services on a contract basis. We recruit people for what they are, what they can do, but also what they want to do. This also led us to take on fixed-price projects in our offices. To date, we have 36 fixed-price projects that are carried out within our Service Center, which was created on January 2, 2022.
The number of employees in Bordeaux. To ensure all our activities, we have recruited new talents. The strength and quality of our recruitments have created value for our clients. We have succeeded in recruiting 28 employees, thanks to

Sully's recruitment team, which was able to help the agency at the right time
Our co-option policy and our network.

Our premises. At the beginning, we were looking to create an establishment for our Agency, with a capacity of 10-15 people. We chose the Pessac area with an establishment of 110 m². Then with the creation of our CDS, we decided to extend our capacity of reception by directing us towards new buildings, of 500 m ², located at the Stadium in Canéjan.
Our offers. Initially, the principle of the agency was to recruit and then to propose a know-how to our customers, like a pool of intellectual services. We were able to sign partnerships for Help-Desk support, PHP Symfony development, Testing, Java development. The agency's offer is oriented around 3 areas of activity: Java, PHP and Drupal.
The trust created with our customers. This trust was not established immediately... Sully was not well known in the region. It is my mission to develop its influence in the whole of New Aquitaine. Our approach was to network, to reactivate our contacts, to present our business development strategy, to ask for their opinion, to involve them, to put them in touch with each other... 2 years later, our relationships are of high quality, authentic and are characterized by excellent satisfaction surveys. An approach we are proud of and even more convinced of!
Cintia: "At the beginning, we were few around the morning coffees, we could be counted on the fingers of one hand. Everything was quiet because of the pandemic, customers were shy and for the few available offers, competition was fierce.
Frédéric and William, boosted and determined, convinced us with their professionalism and the precision of their proposals. We all believed in it, and they did it!
Has it been difficult?
Cintia: "We were all very motivated, rich with our past experiences. The Sully incubator was the parachute, and we were ready to jump out of the plane!
We launched ourselves into internal projects, participated in projects of other Service Centers of the group. The activity became more intense and the first fixed-price missions arrived.
After a few months, everything accelerated and the morning coffees were louder! The convivial moments (afterworks, agency parties) only reinforced the positive dynamic.
Of course, there are always difficulties: a few employees with whom things don't work out, the distance that must not be allowed to develop with employees providing technical assistance to the client.
Frédéric: "Sometimes, yes, it was difficult. In February 2020, the roadmap was all mapped out, then came Covid-19, with its multiple confinements and associated uncertainties. The group's contribution was strong. By attaching Bordeaux to the Incubator, it meant less pressure: it was a matter of giving Bordeaux all the means to set up comfortably without expecting an immediate return on investment, but rather within a comfortable timeframe.
It is also the whole of Sully that participated in the Bordeaux adventure! It is a real collective success. Thank you!
To close the "difficulty" subject, with something that is important to me: the team and its state of mind.
We are a united team that has been able to adapt both humanly and technically with the implementation of quality processes. Our approach is participative.
For our premises, the plans were co-constructed by the agency's employees. The difficulties are similar to those that can be encountered on an IT project: this is the life of a project, with its share of successes and hazards.
Claire, you are in charge of recruitment for the agency, how are you accompanying this move?
I accompanied this development by carrying out several missions:
Organizing a house-warming party with Frédéric! Leaving our old premises deserved a party (on the program: beers, fruit juice, Mölkky, music, games...)!
To propose to the employees visits of the new premises so that they can get a feel for the new working environment, see the progress of the building site and especially share their ideas of layout, decoration, choice of furniture...
The objective was to accompany the employees so that they feel comfortable in the new premises. Some missions went beyond the spectrum of recruitment and were very enriching: the inventory of fixtures, the follow-up of the progress of the building site, the contacts with the craftsmen... I would like to thank Frédéric for having trusted me.
Before moving in, we were in full telecommuting mode in August. I organized virtual and physical lunches to maintain the link. I regularly spoke with the teams to make sure they were not subjected to these working conditions.
We were happy to meet again in mid-September! We integrated the new premises with a team motivated to work physically together again! Thank you all for this adaptation.
The result of this adventure: a magnificent kitchen, a very good hot chocolate, very beautiful offices! A rich, intense experience, to be repeated, why not... in a few years!"
Has the agency's offer evolved?
Cintia: "Frédéric's attentive ear allowed us to respond quickly to new needs and to recruit new employees.
Frédéric: "Yes, it has evolved. Today, we have a set of services that revolve around the realization of digital projects for our local customers, but also for our national and international customers.
We have also developed a Web Factory expertise through which we develop simple and complex websites: in addition to our national offer Liferay, we have an offer around the CMF Drupal which is very powerful since its version 9 and soon 10.
We have very beautiful achievements. Out of respect and confidentiality towards our customers, I will only share with you the main lines, namely the creation of a customer relationship management tool, a tool for managing the mandates of elected officials of a collective institution, or the creation of a new website for the Bordeaux Conservatory of Music, and the creation of a participatory platform for managing patrimonial interests."
What are the agency's ambitions for the future?
Cintia : "We wish that the Sully family of Bordeaux grows at a reasonable rate, so that each one can find his place in it
We are all convinced that the Sully adventure still has many good and beautiful surprises in store for us!"
Frédéric: "Continue our actions in the same direction, with the same desire, and continue to live this authentic adventure."
Claire: "Join us with your talent and your personality! I am waiting for you to discuss your professional project and our perspectives."