"Our values have always been those that underpin the principles of corporate social responsibility."
Respect for people and their rights, listening, team spirit, promotion of initiative, sharing of responsibilities... For many years, Sully has been implementing a global policy in terms of CSR.
Today, our CSR governance relies on about fifteen people:
a working group, thematic referents and relays in each agency.
Elsa BLAHAY • CSR Manager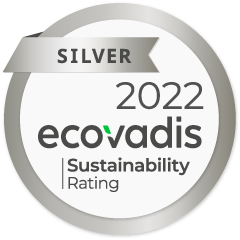 EcoVadis awarded us its silver medal
for our overall CSR approach, with a score of 66/100.
We are in the top 7%
of companies evaluated by EcoVadis in our sector of activity.
Our environmental commitments
Optimizing our resources

Purchase of sustainable hardware (RAM, CPU, maintenance and repair...)
Massive decommissioning of our digital resources in connection with Data Protection
Rationalization of our servers (virtualization, consolidation, remote control)
Commitments

Disability and Harassment referents
Annual social report
Approximately 30 Work Council meetings per year

Skills development

Annual interviews
Annual training plan
Professional and geographical mobility

Gender equality

79/100 Gender Equality Index (detail)
Salaries, raises, responsibilities… We are committed to equality throughout the career path

Quality of life at work

6 weeks of holiday
The possibility of teleworking
Schedules adapted to your situation
Right to disconnect
Éthique & transparence

Réunion d'agence semestrielle
Charte Éthique et conduite des affaires
Certification ISO9001

Achats responsables

Fournisseurs labellisés
Achats auprès d'entreprises adaptées et d'insertion
Charte Achats responsables

Développer le groupe de manière raisonnée, durable et intrapreuneuriale

Capital social détenu à 100 % par les salariés
Incubateur Sully Group pour le développement de nouvelles offres et agences en interne