Achievements
May 24, 2022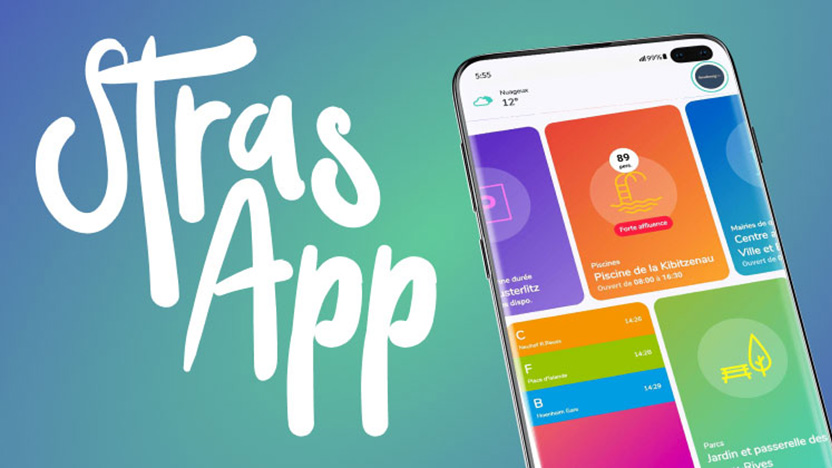 A realization of the Mobile Apps division
Jean-Sébastien BARTOS, Digital Project Manager for the City and Eurometropolis of Strasbourg, talks about our collaboration.
Jean-Sébastien, can you introduce yourself?
I am a Digital Project Manager for the City and the Eurometropolis of Strasbourg.
I have a rather atypical background: I started in commerce, then I decided at the age of 24 to launch myself in multimedia, 17 years ago now. My experience was in the public sector: first at the Council of Europe, then at the City and Eurometropolis of Strasbourg.
What are your missions?
Our mission is to respond to the needs of users, on the one hand by providing clear and concise information, and on the other hand by simplifying and dematerializing services.
This concerns in particular transport, the environment, education, sport, green spaces, culture and citizen participation.
What kind of projects are you working on?
At the moment, I am working on the redesign of the Strasbourg.eu website, our "flagship". But also on the Summer site, Christmas site or on a service allowing citizens to report a problem in the public space...
I take on projects of all sizes: very small projects, but also very large projects, which can last several years. We have very different subjects, that's what I like!
What about StrasApp? What is this application for?
StrasApp is the daily companion of the inhabitants of the City and the Eurometropolis. Each user can compose "his" Strasbourg according to his needs and interests: for example, we can put in favour a streetcar stop, a swimming pool, a town hall, a waste disposal site... No one will have the same application, because we all have different lives: some will take the bus, others will use the bike, others still the car...
The services that can be personalized are numerous:
Real time information: To know when my bus will pass, the number of bikes available in the nearest station, the waiting time in my town hall, parking spaces...
Agenda: To compose my personalized agenda, choosing from an offer of nearly 10,000 events per year!
Maps: If I want, for example, to see the waste disposal sites, parks and some schools, I can do so, that is, choose what I want to see among all the places listed.
Reporting: To report a problem on the road, like broken street furniture, a lost object... This is a feature that is really expected by users.
Follow-up of procedures: I can associate my account with Mon Strasbourg, to follow the progress of my procedures, my loans at the media library, the payment of the canteen, a request for subsidies, a civil status document...
What were the challenges in developing this application?
I would retain 3 main issues:
The first one was to replace StrasMap, a route calculation application that was at the end of its life, with an aging technology, but that was well used, with more than 100 000 downloads.
A second challenge was to meet users' expectations. To find out what they wanted from the application, we set up a digital users' committee.
Finally, the third challenge was to go for a bold technology. We chose Flutter, Google's open source technology. And above all, our idea was to aggregate in the application information that we already had elsewhere:
from www.strasbourg.eu;
those from our open data platform;
information from partner operators, such as the Strasbourg transport company, the Region, the shared bike service, parking operators, etc.
The strength of the application is that it offers in one place the data available on dozens of sites, in a personalized way: I open the application, and in the blink of an eye I have access to the information I have chosen, which is useful to me, without having to go and look for it everywhere else.
Why did you choose Sully for the development of StrasApp?
We were already working with Sully to manage our websites. Together we built our website factory, which allows us to edit 14 websites from a single back office. It is this technology and philosophy that allows StrasApp to aggregate content from various sources.
Sully knows very well our organization, our ecosystem, our code... It was only natural to continue working together.
And then, when we exchanged with the Mobile Applications division of Sully, we found that the projects they had already led guaranteed us a strong expertise. For example, at the very beginning, we were open about the type of technology to use: Were we going for native? Were we going for a Progressive Web App? Were we going for a hybrid? Sully helped us by asking us very simple questions about our functional needs. Using this matrix of criteria, we identified together the technology that corresponded to our needs. And frankly, I think we made no mistake.
What have we achieved together?
First, the project was launched in March 2020, sound familiar? With the lockdown, we were much more concerned with organizing our teams than launching new projects! It wasn't easy to start without seeing each other, but we got our act together very quickly, I think it was a good effort.
Then, we were quick: 9 months of development is not much for such an application. Especially since we were slowed down by the second round of municipal elections, which was postponed for three months because of the pandemic. On the eve of the vacations, we didn't know yet if the new team wanted to continue the project. It was well advanced, but it could also have been stopped.
We were also very good, I think, at risk management. We avoided a lot of mistakes, and that's what I like a lot about the current management of the project.
Finally, I'd like to point out that this partnership has been a success in terms of accessibility. For us, accessibility and digital sobriety are key issues. For example, we had a feedback from a user on a specific problem, and we were able to solve it in 3 weeks.
What about performance?
We were able to be very responsive to improve performance.
When we started querying many points of interest, we realized that we could have performance problems. Displaying the availability of 7,000 bike racks on a map is not that easy! We managed to reduce the loading time from more than 30 seconds to 3 seconds, especially by calling the data on demand, not at launch.
The performance is good, which is essential, because if the user launches the application and it takes too long, there is a high risk that he will uninstall it!
What's next?
The app was launched at the end of January 2022, but we still have a lot to do! We are constantly working on small, medium and large fixes.
This year, we have decided to listen to what users are going to tell us to improve what exists before going further on big developments. We also have a big "Bicycle Route" project coming up.
Eventually, the application should also serve as a multi-service access card. This will be a big change because with StrasApp, you will be able, for example, to borrow books from the media library, to pass the turnstile at the swimming pool, to validate your journey in the streetcar or to sign in as an agent with your phone. This should be a real turning point for our 500,000 citizens and our 7,500 agents, both in terms of downloading and in terms of daily life.
How many users are you aiming to reach?
In 2 months, StrasApp has been downloaded 10,000 times. We are aiming at 100,000 users in 3 years. It's a pretty high goal, because nowadays there is no more room in the phones for new applications.
You offer a lot of services, that's a plus...
Yes, but we shouldn't go overboard. Studying the applications of other French cities has helped us a lot. Some of them have remained quite simple. Others have become catch-alls and have been stopped.
A word in conclusion?
We now have a strong communication challenge, so that the inhabitants appropriate StrasApp. A targeted communication that we have already thought about with Sully.
We are also going to listen to the users, in particular by organizing workshops to evaluate what has been done and make it evolve.
We prefer 10 000 active users than 100 000 who don't use StrasApp!